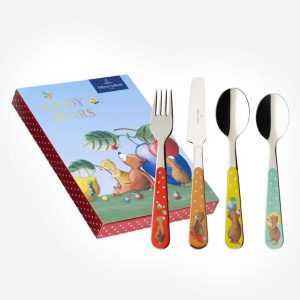 We all love to see our kids smile with joy and for this, we can go to any extent to ensure that they are always happy and smiling. So when it comes to choosing childrens cutlery for our kids we need to be extra cautious and make sure that we want something which is to their like. Whether be it is dinner plate, spoons, knife, dessert fork, a teaspoon or anything else. A well-selected cutlery set for your kids can be a great solution to make their mealtime exciting and at the same time teaching your children how to use a different kind of utensils and encouraging these little ones to eat their food with joy.
Otherwise, kids can be fussy when it comes to eating food and this time can be full of conflict, complaints and lot of struggle which each parent would try to avoid. Thus, the best selection of cutlery can make this experience a fun time and kids can relish this as and when they eat anything. So whenever you are in the market to purchase cutlery for your children one need to make sure that choose the cutlery wisely, and they should be exactly as per your baby's age. One can easily get cutlery for children of various age groups which helps them in holding it correctly and at the same time eating their food well.
Each of this cutlery is designed in a manner keeping in mind that age group so that the kids can easily handle it. Even with these spoons, bowls and plates carry a portion size which is just appropriate for the kids, For toddlers and small children, the cutlery is often round and chubby just like toddler's hands and the design is such to make utensils easier to hold and control and help the kid learn the art of eating. There is a wide variety of eco-friendly and natural and biodegradable material which is made for different stages of a child's development.
One should also make sure that while buying children's cutlery one should also keep one thing in mind that it should be such that it can perfectly fit inside the travel bag as one tends to go with kids and they need to make sure that their children have the right cutlery for eating their food. This colourful and unique cutlery helps children in enjoying their food at the same time learn the art and etiquettes of eating.