Jazzed up Thakkali Sadam – Popular Indian Rice
Thakkali Sadam, hot spiced flavour rice from South Indian, hot and tasty rice, the name originated from Tamil Language meaning "tomato rice", is commonly served at lunch tables across India but become more prevalent in other words as it can be prepared quick and easy. The tomato flavour gives you freshness inside your mouth. You can save a lot of cooking time by using pressure cookers while preserving the aroma and taste much sticky rice by the help of high pressure provided by high-pressure cookers.
Preparation (Ingredients)
Two onions finely diced
Four to five tomatoes finely diced
Five green chillies
One tbsp ginger garlic paste
One small bowl of peas
Two potatoes cut into quarters or smaller
One tsp chilli powder
1/2 tsp Turmeric powder
1/4 tsp coriander powder
One n half tsp of salt (or to taste)
One and a half cups (240ml measuring cup) of rice
Oil – 2 tbsp
Ghee – 1 tbsp
Instruction
Wash rice and keep aside after draining off the water.
Heat oil and ghee in a pressure cooker
Sauté onions till they are caramelised. Add ginger garlic paste, sauté. Add tomatoes, masalas, salt and sauté. When oil separates out, add the vegetables and fry, add rice and fry. Add double the quantity of water, mix, check seasoning. Close the lid. After one whistle, turn off the gas. Wait till the pressure subsides and then open the lid. Serve with raita, papad or fried meat or kheema.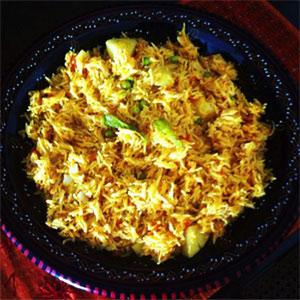 Using Pressure cookers and pressure cooker recipes are to be continued in this blog.