Why the German white wines are the best of white wines
At the London International Wine Fair 2010, German wines raised up among the major winners in the year's International Wine & Spirits competition. German wines won and obtained the top honor of Gold, up from some gold and metal medals in this year's Competition. This result was surprisingly outstanding jointly ranked in third with Italy following after first France and other Spain respectively outpaced the countries such as USA, Chile, and Australia.
Wine producers in the Franken, the middle part of Germany now have particular pride to celebrate themselves with those 63 medals awarded at IWSC, the best of all out 14 Gold medals. Not many wine lovers overseas know well that Germany is best known particularly for its white wines. However, real white wine lovers are passionate about their unique sweetness, magical aroma, and fragrance. Eastern part of Germany along to Rhein river and Mosel river including Ahr, Rheingau, Rheinhessen, Nahe, Pfalz, Baden and Mittelrhein are called Germany most famous wine region. There most of such lovely white wines grapes are being planted and produced.  The aroma and flavor I have sniffed from these particular White Wines from the region are marked in my mind, and it stands a reason local people, as well as tourist, are looking for White Wines in that region.
According to Andrew Connor, one of the top sommeliers, he was deeply impressed with wines of Franken and changed his mind that Riesling is not only just the grape varietal in German after his recent trip to Germany. He has been told hundred of times that "Riesling" is one of best white wines with Japanese Sushi but "Franken Silvaner" is another on to be the best white wine to choose. "Vocksbeutel" is one that always inspiring appraisal and further the wine aroma is also so unusual and food provoking beside. It appears so outstanding locally that they would never have been room to export overseas." Andrew's viewpoint seems to base on the IWSC outcomes that Germany won the higher quantity of medals ever for white wines rather than on Riesling, with wine producers; Weissburgunder, Scheurebe, Silvaner, and Gewürztraminer who all received Gold Tops in Class position.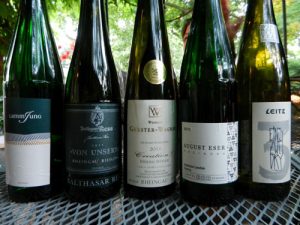 IWSC outcomes initiated a great cheer up for German wine producers into looking exporting to the United Kingdom. It seems German customers have re-learned their take pride in their bright future in white wine production and in looking more potential in the white wine industry as statistics show white wine consumption was increased sharply for the very first time in 2008 and 2009. The support from IWSC to medal-winning manufacturers in export market segments is somewhat invaluable, but consequently, these awards importantly offer good news for Germany's medium-smaller sized producers."