How happy you are!
When you make your kids delight with this Oreo and Raisins Muffins!
Preparation (Ingredients)
Maida 1 and a half cup
Sugar according to taste
Choco powder one spoon
Baking soda one spoon
Baking powder one spoon
Vanilla ice cream three spoons
Full cream milk one glass or enough to make the batter smooth
Raisins 10-15
Butter 1 spoon
Almonds for garnishing
Cashew nut for garnishing
Honey for garnishing
Oreo biscuits for garnishing and stuffing
Egg 1 or 1 smashed banana
Instruction
How to prepare the batter:
Mix Maida, sugar, choco powder, baking soda, baking powder, raisins and keep it aside
In another bowl mix egg (banana), milk, vanilla ice cream and butter
Mix the ingredients of both the containers to make a smooth batter.
How to make cakes out of batter:
Grease the stencil well with butter and pour two spoons of batter in it, place an Oreo biscuit and pour more batter, half fill the stencil.
Put the pressure cooker on the flame, and after 5 minutes carefully position the stencil inside the cooker, cover the pressure cooker, after around 4 minutes put the fire on mid. Keep checking, and once you feel the cake is ready, you can check it with a toothpick. If the toothpick goes into the cake and comes out clean, then the cake is ready, switch off the flame. Allow it to cool down, take the stencil out and invert it to get the cake.
How to garnish:
Cut Oreo biscuits, raisins, almonds, and cashew nuts in small pieces. Pour half a spoon honey on it, put all the material you have cut on it.
Now serve your kids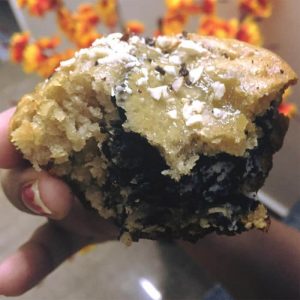 Using Pressure cookers and pressure cooker recipes will continue in this blog.